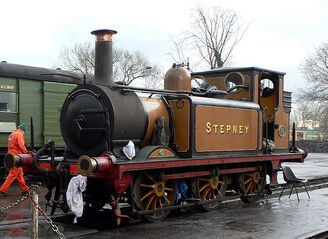 The London, Brighton and South Coast Railway (LBSCR), A1x Class ('Terrier'), "Stepney" is a type of 0-6-0T tank engine steam locomotive built during 1875.
Stepney is named after the area of London of the same name (many of the Terrier locomotives were named after similar areas) and served first as a suburban shunter and station pilot in London. All terrier tank engines like Stepney at the time, were built with wooden brakes. However these were soon replaced with metal breaks due to their obvious tendancy that wooden brakes could ignite into flames if they were overused. The engine was then used for push-pull trains and branchline duties. During it's last working days on British Railways Stepney went to work on the Hayling Island branch, before becoming retired during the end of the steam era in the UK. By this point Stepney was 85 years old.
"He" was soon rescued from an out-of-use siding by the newly-founded Bluebell Railway Preservation Society in May 1960 and became the first standard gauge steam locomotive preserved and restored in the UK.
Since being restored, Stepney has proved to be a very popular attraction to the Bluebell Railway, and hauls both passenger and freight services; despite undergoing several overhauls. Stepney is now currently in "Bluebell Black" livery (black with red lining and the name 'Stepney' in bold on the tanks). This livery was applied to commemorate the 50th anniversary of the Bluebell Railway in 2010 and was likely to be kept until Stepney's next overhaul in 2015.
Out of the 50 Terriers built for the LB&SCR and the 9 that survive, Stepney is likely the most famous. The engine has made numerous cameos and fame in other publicity, including the 2013 'Children In Need' event in the UK.
Stepney gained a lot of his fame through featuring in the Rev.W.Awdry's, Railway Series, on Thomas The Tank Engine. Hence he is well known to many children nationwide.Stepney isn't the oldest surviving terrier in the world, fellow classmate Fenchurch is three years older than Stepney. In other words Fenchurch is 142 years old, whereas Stepney is 130 years old. However through his extensive usage especially in his early preservation days in the 1960's, Stepney's running ability in recent years has been restricted due to the massive costs of a future overhaul with special attention being directed on the cylinders, frames and boiler.