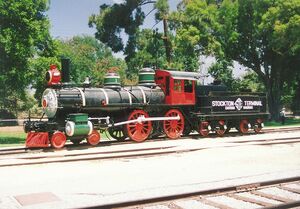 Stockton Terminal & Eastern RR No. 1
is a type
4-4-0
"American Standard"
steam locomotive
that was built by the Norris Locomotive Works in 1864 for the first railroad to bear the name "Western Pacific".
In 1891, #31 was leased to the Southern Pacific as #1193. It was renumbered #1215 in 1901 and #1488 in 1907.
The Western Pacific was organised in 1862 to connect the Central Pacific in Sacramento with San Jose, CA, and #1 was one of 10 locomotives bought by the company.
After forty years working for the Central Pacific, #1488 was sold to the newly formed Stockton, Terminal & Eastern Railroad in 1914 where it was renumbered #1.
Stockton, Terminal & Eastern began operations on 5th September 1910, on a line built east from Stockton, CA, by a group of San Joaquin County farmers, merchants and promoters.
In 1953, #1 was retired, completing nearly 90 years of loyal service, and was donated to Travel Town Museum in Los Angeles, CA where it sits on display today.
When received, they were lettered "A" to "J", and #1 was originally lettered "G" and nicknamed "Mariposa".
No. 1 was the railroad's primary power for many years, and it ran continuously until the company donated it to the travel town museum in 1953.
In 1867, the Western Pacific ran out of money and halted work until it was absorbed by the Central Pacific in 1870.
"Mariposa" was renumbered #31 and was the second Central Pacific locomotive to bear that number (the first #31 had suffered a boiler explosion in Nevada in 1870).
The Norris Works produced locomotives from 1832 to 1866 and was, during its peak in the 1850s, the largest locomotive maker in the US if not the world. Baldwin acquired the Norris factory site in 1873.
The Stockton, Terminal & Eastern still operates 25 miles of track out of Stockton connecting to transfers with the BNSF, Union Pacific and Central California Traction Company.