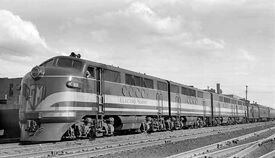 Streamlining describes a special design that can be given to a steam locomotive. It can improve a locomotive's speed due to its special shape.
Streamlining was added to steam locomotive (and, or coach) designs in the late 1920s and though out the 1930s. It involves adding metal panels to the outside of the steam locomotive. These panels smoothed the shape of the steam locomotive and reduced fuel consumption. The idea of streamlining was to increase speed, however this was not really achieved. The world's first streamlining was add to the Windsplitter of the Baltimore & Ohio Railroad in 1900. In this case the streamlining was added to the tender and coaches only. Reason being that it was thought that the air that got trapped in between the coaches was slowing the train down, it didn't really work. The problem was that with the wind blowing on the side of the train, without streamlining, the air was able to escape between the coaches. With streamlining the air was trapped on one side of the coaches and pushed the wheels against the track and slowed the train down. Many diesel locomotives had some streamlining in their designs from the start, but only for reduced fuel consumption. In modern trains, especially trains such as the Shinkansen series, streamlining is well mastered, however and is not always a bad idea. The term 'streamlining' is often confused with stripes and 'styling' on the side of the train but actually only refers to the aerodynamics. From the 1930's onwards to around the 50's or 60's, several British steam trains were rebuilt or manufactured as streamlined locomotives, to try and acchieve record breaking speeds. Only Sir Nigel Gresley's design was as successful as it was, making the design historically revolutionary for it's performance. This somewhat era of streamlined engines was nicknamed: The Streamline Era, which was a time period, particularly around the 1930's when the Big Four companies in the UK attempted to create and modify any locomotive into a streamlined masterpiece. This of course was overdone, with many engines never reaching over 100 mph, simply because they were not designed to do so, despite them having tons of modifications done to the build.
An example of this would be the GWR's short-lived streamlining experiment of a King Class: King Henry the 7th. This engine received rounded semi-spherical cladding on the locomotive face and very minor alterations to the running plate and boiler, consequently such modifications didn't enhance speed that much as the design was experimental and quickly dropped. The exact same experiment happened to one of the GWR's Castle class, Manorbier Castle.
References
Edit
Book: The Railway Data File published by Silverdale Books. ISBN: 1-85605-499-3.
Site: Wikipedia.org