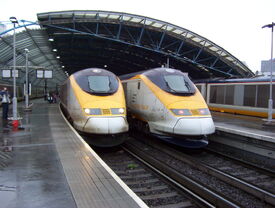 The British Rail Class 373, known in France as the "Train A Grande Vitesse, Trans Manche Super Train" is a high speed Electric Multiple Unit that operated Eurostar's high speed international service from London St Pancras in London, England to Calais, Lille, Marne La Valle (Disney Land Paris), Paris, Avignon, Marseilles, and Bourg St Maurice in France and Brussels, Belgium. Part of the TGV family, the Class 373 was built between 1992 and 1996 by a joint venture consisting of GEC Alstom and La Brugeoise et Nivelles. Construction commenced in four locations, GEC- Alstom's plants at La Rochelle and Belfort in France and Washwood Heath in Birmingham, UK. Also at La Brugeoise et Nivelles' plant in Brugges, Belgium.
With the delivery of the first Class 373 Eurostar e320 sets from Siemens in 2014, the Class 373 TMST has been officially named the "Eurostar e300". Along with this new name, the sets are also receiving, a new livery, refurbished interiors, and a full overhaul at Temple Mills Depot in Stratford, London and at Le Landy Depot in Paris.
The TGV-TMST was built between 1992 and 1996 and is the main ground-based link between Britain and the European mainland. Britain has 10,000 miles (16,000 km) of railway, and the Channel stood in the way of the tourists from easily getting to it. The TGV-TMST was the answer. With trainsets owned by both SNCF and Eurostar, as was the agreement, both countries (Britain and France), can profit from the link.
References
Edit
Book: The Complete book of Locomotives by Colin Garratt, published by Hermes House. ISBN: 978-1-84477-022-9.