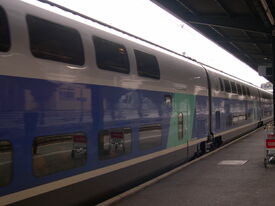 The Duplex is a TGV; a high-speed EMU. It is called Duplex because its carriages are double-deckers. The two floors means it has a 45% greater capacity over a normal single floor TGV. It has 545 seats, which is a good 200 more than other TGVs.
A study was made in 1987 to see if a bi-level high-speed trainset could be made out of the Sud-Est. This was followed by many tests to see if there were any safety issues relating to the higher center of gravity the dual-floor cars have. Finally, on the 21st of June 1995, the first Duplex power-car was connected to the bi-level cars, and the first passengers could board soon after.
References
Edit
Ad blocker interference detected!
Wikia is a free-to-use site that makes money from advertising. We have a modified experience for viewers using ad blockers

Wikia is not accessible if you've made further modifications. Remove the custom ad blocker rule(s) and the page will load as expected.