This article or section may need to be rewritten. You can help Locomotive Wiki by improving it!
Please remove this notice if the page has been edited majorly.
The
TGV PBKA
is a high-speed
EMU
, and the only
TGV
to be built (between 1995 and 1998) specifically for the Thalys Paris,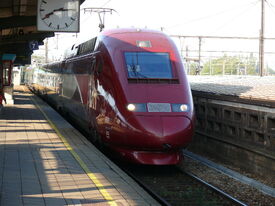 France; Brussels, Belgium; Köln (English pronunciation: Cologne), Germany; and Amsterdam, The Netherlands (or PBKA) service of France's TGV network. The power-cars are technically similar to the
TGV Duplex
, but it doesn't have the bi-level carriages. The power-cars, of which there are two, are quad-current. Meaning they can switch from 25kV AC (France) to 15kV AC (Germany, Switzerland); 3kV DC (Belgium); 1.5kV DC (The Netherlands, and the rest of the French High-speed Network). The trainset is 656 ft (200m) long, and weighs 385 tonnes. Seating capacity is 377. Seventeen trainsets have been made. The service has been limited to 186 mph (300 km/h) in France.
References
Edit