Talyllyn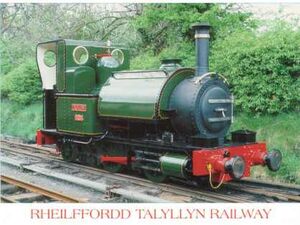 Talyllyn
Details

Years built

1864

Builder(s)

Fletcher Jennings, Whitehaven, Cumbria

Number Produced

1

Years in Operation

1864-Present

Fleet Numbers

Works Number-42, Talyllyn Railway Number-1

originally 0-4-0ST, now 0-4-2ST

Number Preserved

Unknown

Number Scrapped

Unknown

Dimensions
(l × w × h)

18' 1/2" long

Gauge

2'3"
V - E - T - D
Talyllyn is a 0-4-2 narrow gauge saddle tank engine.
Talyllyn is a type of 0-4-0ST (later 0-4-2ST) narrow-gauge tank engine steam locomotive built in the 1860s by Fletcher Jennings of Whitehaven UK. Talyllyn was originally cabless, and had a short wheelbase and long rear overhang, which led to "her" rapid conversion to a "cabbed" 0-4-2ST shortly after it was first in service. Talyllyn was in a bad condition by 1945; it was laid aside and kept in storage. He was rebuilt in 1957-58 by Gibbons Bros. Ltd., but proved problematic and has undergone considerable modification since then, resulting in a much improved performance. Talyllyn still operates trains on the Talyllyn Railway today.
Talyllyn is sometimes given a molded face to resemble Skarloey, a fictional representation of him from The Railway Series books.
Talyllyn is one of the oldest operable steam locomotives in the world.
Talyllyn is the basis for Skarloey from Thomas & Friends.
"Railways Restored - Wales 2"