A
tank engine
is a
steam locomotive
that has a small tender known as a
bunker
. It is named so, because of it having (somewhat, depending on the size of the locomotive)
large water tanks
.
Tank engines were the very first types of switching or secondary steam locomotives; to whom they were used for switching or shunting rollingstock or other locomotives, and used on branchlines or as spare units for trains.
On a tank engine, or locomotive, the fuel (most often coal) is carried in a
bunker
the (location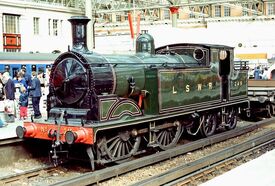 of which can vary). On a locomotive with a trailing carrying axle or a trailing bogie, the bunker is generally situated to the rear of the cab, but in cases where the firebox overhangs the rear driving axle, it has been common practice to situate the bunker on top of and to one side of the firebox; this concentrates the weight and stabilizes the locomotive.
Water Tanks
Edit
There are several different types, styles, or forms of the water tanks used on a tank engine:
A tank "engine" is often referred to by the actual engine powering the locomotive rather than the locomotive itself.
Wheel Arrangements are often referred to by an added "T" for tenderless to avoid confusion of a steam locomotive with a tender. (Such as: 0-6-0T and 0-6-0.)
"F" and "S" are also used in wheel arrangements to distinguish "saddletank" and "fireless" tank engines.