The E1 was built in 1907 by Beyer, Peacock & Co. as part of the two strong E class(builder's number 4967). The locomotives were intended as heavy freight locomotives.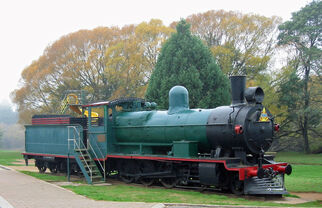 Specifications
Edit
The locomotive weighed 72 tons and produced 19,947 Lbs of torque at 85% capacity. It is of an outside cylinder 4-6-0 wheel arrangement.
Career and Preservation
Edit
The locomotive primarily worked heavy freight throughout TGR's territory, and it continued in this role until 1962 when it was withdrawn and it's sister E2 was scrapped. The locomotive remained in storage until 1971 when it was plinthed in Deloraine to celebrate the centenary of the arrival of railways to the area. It remains in good condition under the care of the Apex club.