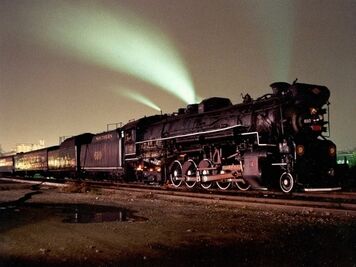 Texas and Pacific No. 610 is a 2-10-4 "Texas" type steam locomotive Built in 1927 by the Lima Locomotive Works for the Texas and Pacific Railway.
The engine was originally design to haul passenger and freight trains for the Texas and Pacific Railway. The engine was retired in 1951 and it sat on static display at the Will Rogers Memorial Center. In 1976, the locomotive was restored so it used to haul the American Freedom Train for the portion of its tour in Texas. After pulling the American Freedom Train, the locomotive was leased by the Southern Railway in 1977 for use in its steam excursion program. Today The locomotive is now on static display at the Texas State Railroad.
Ad blocker interference detected!
Wikia is a free-to-use site that makes money from advertising. We have a modified experience for viewers using ad blockers

Wikia is not accessible if you've made further modifications. Remove the custom ad blocker rule(s) and the page will load as expected.