The Emirates Air Line (also known as the Thames cable car) is a cable car link across the River Thames in London built with sponsorship from the airline Emirates. The service opened on 28 June 2012 and is operated by Transport for London.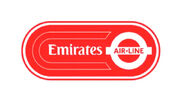 The service, announced in July 2010 and estimated to cost £60 million, comprises a 1-kilometre (0.62 mi) gondola line that crosses the Thames from the Greenwich Peninsula to the Royal Docks. Construction began in August 2011. The cable car is based on Monocable Detachable Gondola (MDG) technology, a system which uses a single cable for both propulsion and support, such as that used on the metrocable in Medellín, Colombia. The MDG system is reportedly cheaper and quicker to install than a more complex three-cable system which would allow for larger-capacity cars.
Ad blocker interference detected!
Wikia is a free-to-use site that makes money from advertising. We have a modified experience for viewers using ad blockers

Wikia is not accessible if you've made further modifications. Remove the custom ad blocker rule(s) and the page will load as expected.