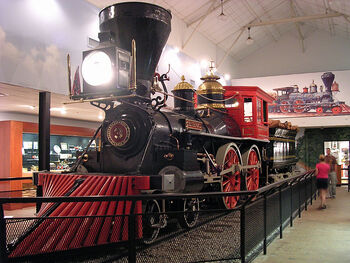 WARR No. 3 "The General" is a type 4-4-0 "American Standard" steam locomotive that was built in December 1855 for the Western and Atlantic Railroad, and was involved in the "Great Locomotive Chase" of the American Civil War. (To whom it was owned by the Confederacy of the United States during the Civil War)
It often transported Confederate soldiers as well as numerous officers, including the famous Robert E. Lee.
The locomotive is preserved at the Southern Museum of Civil War and Locomotive History in Kennesaw, Georgia, and it is listed on the National Register of Historic Places.
The "Great Locomotive Chase" was an event which occurred when the General was hijacked by a group of Union spies led by James J. Andrews while the train was stopped for breakfast at Big Shanty (now Kennesaw, Georgia). The train's conductor, William A. Fuller, pursued the train, first on foot, then on a push-cart, and later on other locomotives encountered, one of which being the Texas. After an eight hour pursuit, the General had run out of fuel and the spies abandoned it.
The General has also operated several steam excursions, and has also participated in many special events. Two of which, were used to commemorate the 2,500th diesel locomotive produced by EMD, and celebrating the 100th anniversary of the Battle of Gettysburg. The General is considered to be among one of the most famous and iconic steam locomotives in the US.
In 1962 The General was given a vintage passenger car No 665 it was hooked up to test how well the engine was repaired.