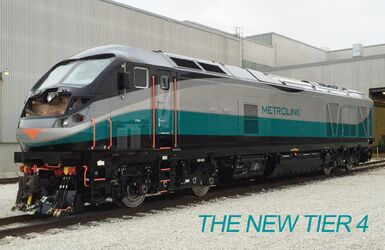 The EMD F125, also named Spirit, is a diesel-electric passenger locomotive currently being built by Electro-Motive Diesel, a subsidary of Caterpillar Industries. The locomotive will be compliant to EPA Tier 4 regulations, have AC traction systems, advanced crash protection, and a streamlined body which meets Amtrak's loading gauge. The locomotive's maximum speed is 125mph (200km/h). Unlike other EMD products, which use EMD's own 2-stroke diesel engines, this locomotive will be powered by a 20 cylinder Caterpillar C175 high speed, four-stroke diesel engine.
Los Angeles' Metrolink is the launch customer for this locomotive. The first locomotive SCAX 905 was delivered in June 2016 followed by many more locomotives within the next year. Testing began in June 2017 and on October 12, 2017, SCAX 908 and 907 debuted on the San Bernardino Line.
Railfans generally agree that the Nathan AirChime K2 this locomotive is equipped with sounds louder yet terrible and painful (even worse than the decent-sounding Rotems).This is due to the fact that the horn is placed on the top of the locomotive (breaking the tradition of having the horn equipped under the locomotive and cab car) as well as operating on more air.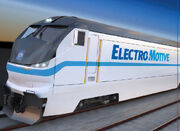 Specifications
Edit
Designation: EMD F125 "Spirit"
Power: Diesel-Electric, AC Traction motors
Axles: B-B (4 axles)
Length: 69'
Height: 14'7", 3" taller than P42DC
Prime Mover: Caterpillar 20V-C175, rated at 4700hp (3200hp when supplying full HEP load to passnger cars)
HEP Capabilities: Static Inverters rated at 1050kW