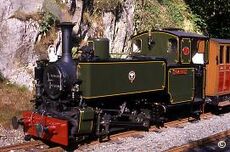 Tom Rolt is a narrow gauge locomotive constructed by the Talyllyn Railway from a different engine of the same class.
The first Tom Rolt was built for work at the Bord na Móna as a 0-4-0WT. It was one of three locomotives to be narrow gauge, and was originally number one, but later renumbered 43. However, the Talyllyn Railway needed another locomtoive as Talyllyn wasn't doing so well at the time. In 1969, the 0-4-0WT was bought to use parts for the current Tom Rolt. He is named after L.T.C. Rolt. He is now currently numbered seven and continues his work to this day.
In Fiction
Edit
Ivo Hugh, a character from the Railway Series book "New Little Engine", is based off of Tom Rolt. Similar to how Tom Rolt is named after L.T.C. Rolt, Ivo Hugh is named after former Cheif Mechanical Engineer Mr. Ivo Hugh. They are both number seven and have the same amount of letters in their names.