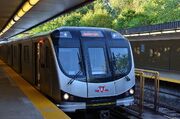 The Bombardier Toronto Rocket (production name: T35A08) is an Electric Multiple Unit (EMU) built for the Toronto Transit Commission beginning in 2006.
In 2006, Toronto's H4 and H5 subway cars were starting to show their age. Rather than rebuilding them to extend their life, the TTC decided that it would be more beneficial to the system to replace them with new cars.
A contract was signed with Bombardier Transportation of Thunder Bay in 2006 to build an initial 39 EMU trains (numbered 5381-5766), to arrive by late 2009.
In 2010, the TTC voted to exercise a contract option with Bombardier, therefore increasing the order to 70 cars, enough to replace the H6 subway cars and also add capacity to the overcrowded system.
Entry into service
Edit
The new trains were supposed to enter service with the TTC in 2009. However, the delivery of the first train was delayed because the door manufacturer went bankrupt in 2010.
The first train, set #2 (5391-5396) arrived at Wilson in late September 2010, and was unveiled to the public on October 14, 2010.
The first train to enter service is train #5 (5421-5426), on July 21, 2011.
To date, 40 trainsets have been delivered so far, with one more arriving approximately every week.
When these trains entered service, they experienced many technical and mechanical glitches. The most significant was the doors (ironically). The glitches in the doors resulted in them operating slower than in the older trains, to the point where service was slowing down due to this problem. Reasons for this being that the doors will only operate once the train has come to a complete stop (the older trains activate the door mechanism before coming to a stop), as well as the fact that the train will not move until all doors are closed.
Another issue regarding the trains is that sometimes wheelchair users can't roll onto the trains due to the difference in height between the subway platform and the train being too significant. The TTC states that this is due to the fact that the new trains compensate for the passenger load much quicker than the older trains, and that they are actively looking for ways to solve the problem.
In December 2012, the TTC demanded a high-level meeting with Bombardier regarding the performance of the doors. Aside from the aformentioned issues with the door delays, the TTC has also found that if the doors fail to fully close three times in a row, the system would crash, effectively bring the entire trainset out of service.
References:
Edit