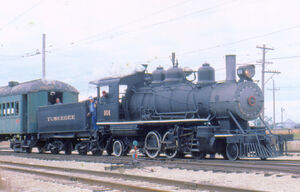 Tuskegee No. 101
is a "Prairie" type a 2-6-2 steam locomotive Built in 1924 by the Baldwin locomotive works for the Tuskegee Railroad as #101 used on shortlines in the American South.
No. 101 hauled mixed trains three times on a day over the line the locomotive was used on the Western Railway of Alabama at Chehaw, AL, to the Tuskegee Normal & Industrial Institute and later the Tuskegee University.
The locomotive worked 30 years for the Tuskegee Railroad and was then sold to the T R Miller Mill Company of Brewton, Alabama in 1954.
The locomotive was sold to the T. R. Miller Mill Co., in Brewton, AL, in 1953 as a switcher and then to Herbert Hansen in Union, IL, in 1969 and eventually ended up at the Illinois Railway Museum where it is shown loading passengers for her next run on IRM's mainline.
Today the locomotive is still at the Illinois Railway Museum but it is now on static display.
The reason that the locomotive is on static display it's because it was being overhauled for conversion to burn coal with its front pilot in storage.
In 1975 it doubleheaded with Frisco No. 1630 to haul a passenger train on the IRM mainline.
On October of 1971, it tripleheaded with Commonwealth Edison No. 5 and J. Neils Lumber Co. No. 5.
No. 101 is the only remaining 2-6-2 steam locomotive from the Tuskegee Railroad.
The locomotive is typical of the light weight Prairie type (2-6-2) used on shortlines in the American South.