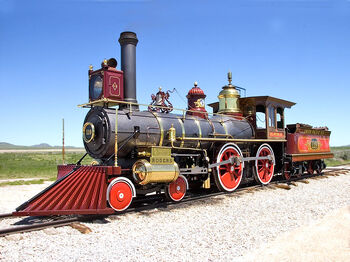 Union Pacific 119 was a freight locomotive built in 1868 by Rogers Locomotive and Machine works in New Jersey. The locomotive, like Central Pacific's Jupiter, achieved fame when it completed the "Golden Spike Run" heading west. However like Jupiter 119 was not the locomotive intended to complete the run, it was put on the front of the train as the original locomotive couldn't be brought across the damaged devils gate bridge.
This locomotive led a similar life to Jupiter in that after the Golden Spike run it returned to life as a freight locomotive, however sadly like Jupiter it's historical significance was not realised until long after it's scrapping in 1903. In 1979, to commemorate the completion of the Golden Spike Run, a replica was made which currently sits cowcatcher to cowcatcher with Jupiter's replica at the Golden Spike history museum. The locomotive does run, along with Jupiter, but not for excursions of any kind.
Ad blocker interference detected!
Wikia is a free-to-use site that makes money from advertising. We have a modified experience for viewers using ad blockers

Wikia is not accessible if you've made further modifications. Remove the custom ad blocker rule(s) and the page will load as expected.