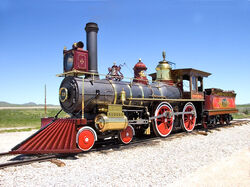 Union Pacific 119 was a freight locomotive built in 1868 by Rogers Locomotive and Machine works in New Jersey along with numbers 116, 117, 118 and 120. The locomotive, like Central Pacific's Jupiter, achieved fame when it completed the "Golden Spike Run" heading west. However like Jupiter 119 was not the locomotive intended to complete the run, it was put on the front of the train as the original locomotive couldn't be brought across the damaged devils gate bridge.
This locomotive led a similar life to Jupiter in that after the Golden Spike run it returned to life as a freight locomotive, however sadly like Jupiter it's historical significance was not realised until long after it's scrapping in 1903. In 1979, to commemorate the completion of the Golden Spike Run, a replica was made which currently sits cowcatcher to cowcatcher with Jupiter's replica at the Golden Spike history museum. The locomotive does run, along with Jupiter, but not for excursions of any kind only demonstration runs.
Like "Jupiter", the original #119 had not been the Union Pacific's first choice to haul the dignitaries to Promontory.
It was featured in The Big Bang Theory episode "The Communication Deterioration" when Sheldon shows a photo of the locomotive to Penny.
After the Golden Spike ceremony, #119 served as a freight locomotive at various locations on the Union Pacific system.
Over 700 detailed engineering drawings were recreated, based almost entirely on the photographs taken of the engines during the ceremony, as the original drawings had not been preserved.
Durant's engineer refused to take the current engine across but did consent to nudge the lighter passenger cars across the bridge.
No. 119 had a similar story to the Jupiter on its entrance into history.