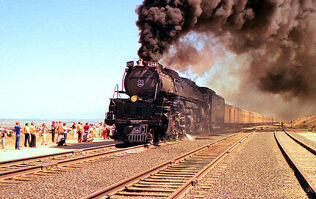 Union Pacific No. 3985
or
UP No. 3985 
is a 4-6-6-4 Challenger type steam locomotive owned by the Union Pacific Railroad. 3985 was built in 1943 by the American Locomotive Company of Schenectady, New York. The locomotive is one of only two+ Only 1=3 of the original 105 Union Pacific Challengers in existence, the other being Union Pacific No. 3977 on static display in North Platte, Nebraska. The Original Union Pacific Challenger 3967: Rio Grande 3806! in 1994!  
3985 is currently in the UP roundhouse shops in Cheyenne, Wyoming and is undergoing boiler work and overhaul since 2010-2013: 3967: 60 years of The Rocky Mount Railroad Club Union Pacific SD-70-ACE #1988 Heritage Diesel : M.K.T! as its Helper Diesel 4 That. It is Clinch-Field Challenger #676 when she will be back in service, but her restoration may resume after Big Boy #4014's restoration is complete.
Ad blocker interference detected!
Wikia is a free-to-use site that makes money from advertising. We have a modified experience for viewers using ad blockers

Wikia is not accessible if you've made further modifications. Remove the custom ad blocker rule(s) and the page will load as expected.