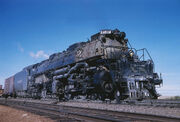 Union Pacific 4014
, or
UP 4014
, is a four-cylinder articulated 4-8-8-4 Big Boy-type steam locomotive owned by Union Pacific Railroad. It was built in 1941 along with the other Big Boy locomotives to fix problems with the preceding 4-6-6-4 Challenger class locomotives. It ran in service until July 21, 1959, when it was retired along with the other Big Boy Locomotives. It was then donated to the Railway & Locomotive Historical Society in Pomona, California in December 1961.
The locomotive reached its destination in January 1962 and was displayed in Fairplex and the RailGiants train museum until November 14, 2013. Thereafter, Union Pacific 4014 was moved to Union Pacific's Steam Shop in Cheyenne, Wyoming, where it is now being extensively restored back to running condition. When UP 4014 returns to running condition, it will join the never-retired Union Pacific No. 844 and the Union Pacific 3985 challenger locomotive in excursion service. It will also become the largest, heaviest and most powerful operational steam locomotive in the world.
The locomotive began its move on January 26, 2014, when it was pulled out of the Fairplex museum. It finally arrived in Cheyenne, Wyoming on May 8, 2014. Upon the completion of the overhaul of Union Pacific No. 844, the restoration of the Big Boy began on August 11, 2016. It is expected to be completed between 2017 and 2019, on time for the 150th anniversary of the transcontinental railroad in May 2019 and the 75th anniversary of Union Pacific 844.
The locomotive was previously renumbered to UPP 4014 because of an SD70M that has 4014's number. The SD70M has now been renumbered to UPP 4014 to allow the Big Boy to be numbered back to simply UP 4014.
Ad blocker interference detected!
Wikia is a free-to-use site that makes money from advertising. We have a modified experience for viewers using ad blockers

Wikia is not accessible if you've made further modifications. Remove the custom ad blocker rule(s) and the page will load as expected.