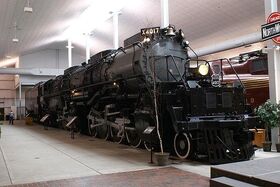 Union Pacific 4017
, or
UP 4017
, is a four-cylinder articulated 4-8-8-4 Big Boy-type steam locomotive owned by Union Pacific Railroad. It was built by ALCO in 1941 along with the other Big Boy locomotives to rectify issues with the preceding 4-6-6-4 "Challenger" class locomotives.
It ran in service hauling freight trains until July 21, 1959, when it was retired along with the other "Big Boy" locomotives.
It is now a static display at the National Railroad Museum in Green Bay, Wisconsin.
No. 4017 is one of eight surviving Big Boys.
The locomotive was one of the last Big Boys to undergo heavy repairs at Union Pacific's Cheyenne, WY, workshops in July 1959.