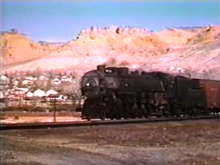 Union Pacific No. 5511 is a 2-10-2 "Santa Fe" Type steam tender locomotive was built by Baldwin in 1923 for the Union Pacific Railroad.
It was also designed to pull heavy freight train loads at slow speeds rather than passenger trains, so is unlikely to be returned to operating condition at any time in the future.
It is seen today in storage in the UP's Cheyenne, Wyoming roundhouse.
No. 5511 is the sole surviving UP Santa Fe.
This locomotive is one of fifteen TTT-6s built for the Los Angeles & Salt Lake City (#5500-#5514).
It was cosmetically restored some years ago for a rail show, but is not in good shape mechanically.
She was shown briefly in UP's Last Of The Giants.
Ad blocker interference detected!
Wikia is a free-to-use site that makes money from advertising. We have a modified experience for viewers using ad blockers

Wikia is not accessible if you've made further modifications. Remove the custom ad blocker rule(s) and the page will load as expected.