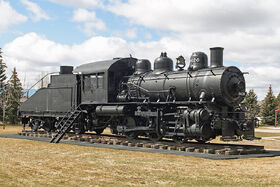 Union Pacific No. 4420 is a class S-6 0-6-0 steam locomotive. It was built in 1914 by the lima locomotive works for the Union Pacific railway.
The engine was design to work as a switcher for the Union Pacific railroad.
The engine was retired in 1957 and it was donated to the City of Evanston in 1958, where it went on display on the courthouse lawn.
Today the engine is now on display in a play area off Elm Street a few yards north of Oak Street in Evanston WY.
The 0-6-0 dominated switching duties in US railroads right up to WWI, although increasingly heavy freight loads had already brought more orders for 0-8-0 switchers.
At the same time, old road engines were often diverted to switching, either as-built or after their leading and trailing trucks had been removed. Then, after WWI, the success of the USRA 0-8-0 design resulted in a reduction in demand for 0-6-0 switchers.
Although orders did continue right into the 1940s, 0-6-0s were generally used on lighter duties and in smaller yards.
Ad blocker interference detected!
Wikia is a free-to-use site that makes money from advertising. We have a modified experience for viewers using ad blockers

Wikia is not accessible if you've made further modifications. Remove the custom ad blocker rule(s) and the page will load as expected.