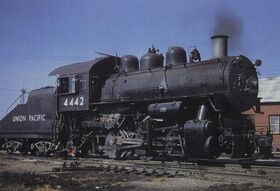 Union Pacific No. 4442 is a Class S-5 0-6-0 built in 1918 by the Baldwin locomotive works for the Union pacific railroad.
The engine was design to work as a switcher for the Union Pacific railroad.
The engine was later moved to Las Vegas in the late 1930s were it was donated for exhibition.
No. 4442 was on display at Council Bluffs, Iowa on an unknown day on February of 1958.
Today, the engine is on display at the Clark County Museum in Henderson, Nevada.
Ad blocker interference detected!
Wikia is a free-to-use site that makes money from advertising. We have a modified experience for viewers using ad blockers

Wikia is not accessible if you've made further modifications. Remove the custom ad blocker rule(s) and the page will load as expected.