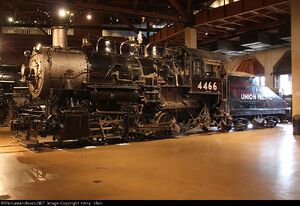 Union Pacific No. 4466
is a class S-6 0-6-0 steam locomotive. It was built in 1920 by the Lima Locomotive Works for the Union Pacific railroad to perform switching chores and transfer runs.  
The locomotive spent most of it's career in Cheyenne, Wyoming as a shop switcher - or shop goat - and was the UP Cheyenne Shop's last to do this job.
It was also occasionally used to haul small passenger and freight transfer runs and switching freight cars for the Union Pacific railroad. Even when UP ended steam operations in 1959, the little 0-6-0 and some of it's siblings were still used around the railroad yard switching freight cars. They were officially retired in 1962.
After working in Cheyenne, #4466 transferred to Grand Island, Nebraska where it remained until 1973 where it was put in storage.
In 1978, it was donated to the California state railroad museum, and in 1984, it was restored to service and it also pulled the museum excursions. In 1986, 4466 ventured to Vancouver, British Columbia to take part in Steam Expo '86. This was not the only time 4466 took part in such a celebration; it also went to Sacramento (its current home) to take part in the Rail Fair of 1991.
In 1999, new California emissions regulations banned the operation of coal-fired steam locomotives, which caused the 4466 to be put on indefinite static display. In 2013, it was let out to take part in the Union Pacific's 150th anniversary celebrations. Today it is still at the California State Railroad Museum.