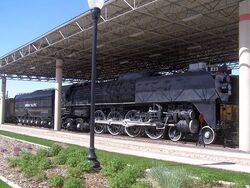 UP (Union Pacific) No. 833 is a type of FEF-2 Class (FEF meaning, "four-eight-four") 4-8-4 'Northern' steam locomotive that was built by ALCO (Schenectady Locomotive Works) in 1939. She is the only remaining member of Union Pacific's FEF-2 class.
No. 833 was one of the many ALCO FEF Series 4-8-4 steam locomotives purchased by the Union Pacific during the pre-war era of the United States from after the Great Depression until before World War 2. 833 and its other "relatives" operated on passenger service throughout the UP's original route: Cheyenne, Wyoming to Denver, Colorado and from Salt Lake City, Utah and back. 833 and its famous and iconic counter-part; No. 844 were some of the last steam locomotives to remain on the railroad until all but one (being 844) was retired. 833 was retired in 1957, but was retained by Union Pacific until 1972 when it was cosmetically restored and donated to the city of Salt Lake City, Utah. It was placed on display in SLC's Pioneer Park where it remained until 1999 when the 450,000-pound locomotive was moved by special heavy-haul truck to Ogden, UT. about 30 miles away.
Today, the locomotive is preserved at the Ogden Union Station Museum in Ogden, Utah. Although it never operates steam excursions, it is still considered to be in excellent shape, despite its boiler jacket being missing.
833 was also originally fitted with small smoke deflectors placed on the sides of the smokestack, but eventually received "elephant ear" side smoke deflectors as seen in the image above.
Like most UP passenger locomotives, 833 wore the UP's two-tone gray before eventually being repainted into the standard black and white scheme.