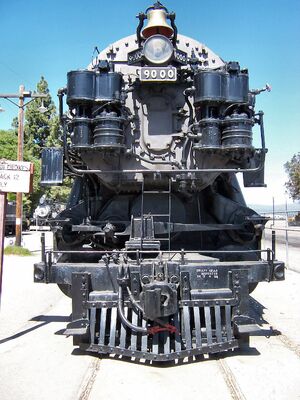 Union Pacific No. 9000
is a UP-1 class 4-12-2 steam locomotive built in 1926 by ALCO for the Union Pacific Railroad. This engine was designed to haul passenger and freight trains on the UP.
The UP took delivery of ten three cylinder FTT-1 4-10-2s in 1925 (#8000 & #8800-#8808), but these were not a great success.
By then, however, the UP had already committed itself to purchasing the massive 4-12-2 as a three cylinder locomotive from Alco, although problems with the Overlands at least allowed the company to modify the design during its development. Problems included difficulty accessing bearings on the centre cylinder drive wheel, main boxes overheating, excessive build up of back pressure at full speed and wearing of the valve gear.
No. 9000 was the first of the type, built as a test locomotive with the $105,835.27 cost divided between the UP and Alco. It was delivered to the Omaha, NE, shops on 8th April 1926 and, after some final work there, was moved to the depot for display west of the passenger station on May 13th. The following day, #9000 moved west, starting out on the old main line from Omaha, part of the original transcontinental railroad bypassed by a later UP realignment. The locomotive was inspected at each division point, finally arriving at Cheyenne, WY, just after midnight on the 15th of May.
The first test was on the 16th May, over Sherman Hill. Strings of cars lined Highway 30 just west of town as people came to see the new engine. Arriving at Laramie after midnight, it underwent a complete inspection and lubrication before continuing testing well into June, running up 4,159 miles.
Once out of testing, #9000 was assigned to the Laramie roundhouse where it operated as part of the freight pool and was shopped according to mileage schedules.
Today, this big engine is a static display at the Los Angeles County Fairgrounds in Pomona, CA, and is owned by The Southern California Chapter of the Railway and Locomotive Historical Society.
9000 is the last surviving engine in the world with a 4-12-2 wheel arrangement