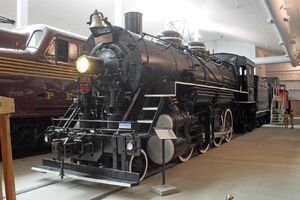 United States Army No. 101
is 2-8-0 Consolidation type steam locomotive built by the Baldwin locomotive works in 1918 for the US Army.
The engine was used for passenger and freight service for the US army.
They were intended for use in the European war theatre, although this locomotive never made it to Europe. Instead, it went to Fort Monroe, VA, as #765.
It was renumbered #8341 and named "General Pershing" in 1925. In 1941, it moved to Fort Benning, GA, and then, in 1943, to Cape Blanding, FL.
Two years after World War 2, #8341 was shipped to Korea in 1947.
Later, the locomotive - along with 100 other locomotives from Europe - served in the Korean War.
Today the engine is a static display at the National Railroad Museum.
There, it was renumbered #101 and was damaged by arms fire but was rebuilt in 1953 and put back into service.
It ended its operating life as switcher in Seoul and was then donated to the museum by the Republic of Korea in 1959.
This is the only surviving example of one hundred and fifty Consolidation type locomotives built by Baldwin in 1918 for the US Army.
About fifteen hundred Consolidations were produced by Baldwin for the US Army between 1916 and 1918.