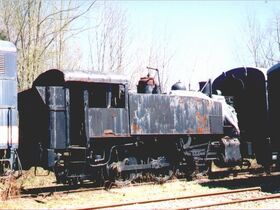 United States Army No. 5002
is an 0-6-0 steam locomotive built by H.K. Porter in 1942 for the United States Army's Transportation Corps.
The locomotive was assigned as a switch engine for the U.S. Navy yard in Philadelphia.
The engine was retired from service in 1948, and was later sold to EJ Lavino & Company for use in one of its yards in eastern Pennsylvania.
After 15 years working for EJ Lavino and a relatively brief static display at the Tombstone junction amusement park in Kentucky, she was sold to the Kentucky Railway Museum and stored there until 2015.
Today, the locomotive is at the Coalbrookdale Railroad where it is being restored to operation.