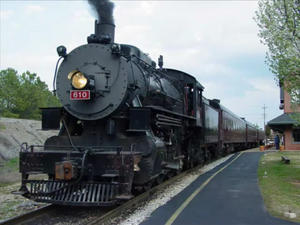 Tennessee Valley Railroad No. 610
 is a class As 2-8-0 consolidation built by the Baldwin-Lima-Hamilton Corporation for the U.S. Army in 1952.
610 was one of eight steam locomotives for use on the Army railroad and was used to train soldiers in railroad operation in maintenance.
This locomotive was also used for transport on the 31 mile long Fort Eustis Military Railroad to an interchange with the U.S. railroad at a junction in at Lee Hall, VA.
The Army used the 610 as a training locomotive, preparing crews to operate on European railroads if the need arose.
Following its decommissioning of steam operations on the Fort Eustis Military Railroad in 1972, the locomotive was obtained by the Wiregrass Heritage Chapter of the National Railway Historical Society in Dothan, AL.
In 1978, it was donated to the TVRM and following its 1991 restoration, it served as pulling power on the TVRM's excursions.
Today #610 is still at the TVRM but it's right now stored while it's awaiting for restoration and it is not in service.
This locomotive was featured in country singer Josh Turner's music video for his hit song Long Black Train in 2003.
This is One of the last steam locomotives built for service in the United States.
When 610 operates at the Tennessee Valley Railroad she was remodeled to look more like a typical civilian 2-8-0.
TVRM 610 leads a passenger train while doubleheading with Southern Railway No. 4501 in a runby at Chickamauga, GA, during a 1996 Autumn Leaf Special operated by the Tennessee Valley Railroad.
On June 06, 2009 it used to haul the Sunday Summerville Steam Special.
Following the completion of the restoration of Southern Railway No. 630 in 2011, #610 was moved to the facilities' Soule Shops, where it currently awaits an overhaul. When the overhaul is completed, TVRM #610 is to serve along Southern Railway 630 and Southern Railway No. 4501 were it will be invited to the 21st Century Steam Program, which was inaugurated on Labor Day weekend 2011.
In the 1990's it used to doublehead with Southern Railway No. 4501.
No. 610 is based on the 1942 USA S160 class, two thousand, one hundred and twenty of which were built for heavy freight work in WWII Europe, although a number stayed stateside.
#610 starred in the film Water for Elephants as a Southern Pacific locomotive.