Victorian Railways was a Victorian state government owned railway company in Australia. It largely operated in Victoria, apart from a few lines extending across the border into New South Wales, and was operational from 1859 to 1983.
Before VR, the railways were operated by many separate private companies. These companies either failed or became bankrupt, thus VR was created. Most of the VR operated lines were 5ft 3in (1,600mm) broad gauge tracks. There were some 2ft 6in (762mm) narrow gauge lines, and from 1961 the line from Melbourne to Albury, in the north of the state, was a standard gauge line (4ft 8 1/2in [1,435mm]).
References
Edit
Book: Railways of the Yarra Valley by Nick Anchen published by Sierra Publishing. ISBN: 978-0-9804686-7-0.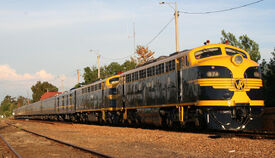 Ad blocker interference detected!
Wikia is a free-to-use site that makes money from advertising. We have a modified experience for viewers using ad blockers

Wikia is not accessible if you've made further modifications. Remove the custom ad blocker rule(s) and the page will load as expected.