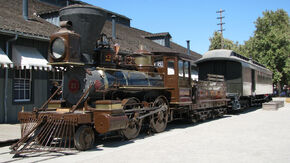 Virginia & Truckee No. 21
(J.W. Bowker) is a 2-4-0 steam locomotive it was built by the Baldwin Locomotive Works in 1875 for the Virginia and Truckee railroad and named after Virginia & Truckee's master mechanic John William Bowker.
The locomotive was design to worked as a switch engine in Virginia City and around the Comstock Mines.
In 1896 the engine was sold to the Sierra Nevada Wood and Lumber Company in Truckee, California & it renumbered #3.
In 1917 the locomotive retired and it was stored in the Hobart Mills engine house until 1937.
After that she was donated to the Railway & locomotive Historic Society Inc. & Was restored as V&T #21.
Today it's on static display at the California state railroad museum restored to her 1880s-1890s appearance.
The locomotive was featured in many films such as "Union Pacific" (1939), "Rock Island Trail" (1950), and "Wild Wild West" (1999) as the Jupiter.
In 1939 and 1940 the engine was at the New York's World's Fair.
In 1876 John Bowker was fired for drunken conduct, four months after the engine arrived then it was renamed "Mexico".