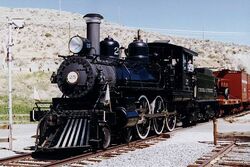 Virginia & Truckee #25 was built in 1905 by the Baldwin Locomotive Works of Philidelphia, Pennsylvania.
During the Tonopah mining boom, traffic increased on the Virginia & Truckee Railroad, and needing newer and more powerful locomotives suddenly was a top priority for the railroad. The #25, a 4-6-0 steam locomotive, became the first new locomotive the V&T ordered since 1876, after #25 was finished in 1905. When the locomotive arrived, it went into service hauling freight trains.
The V&T #25 was originally a coal burner, but in 1907 it was converted into an oil burner, and became a also back-up locomotive. On occasions, the locomotive would haul both freight and passenger trains between Reno, Virginia City, and Carson, when the need for the engine to be used for back-up arised. From 1911 and 1937, the locomotive operated over 80,000 miles during it's service on the V&T. In 1938, V&T #25 was the locomotive that pulled the last scheduled passenger train to Virginia City. 
The locomotive's small movie career began in 1941, when the Virginia & Truckee sold the locomotive to RKO Pictures after the railroad was looking for bigger, and more powerful locomotives. For ten years, the locomotive was featured in a number of motion pictures. 
Finally, after being sold to other groups or people, including Robert C. Gray, who at the time was planning to rebuild a segment of the V&T, in 1971, the State of Neveda purchased the locomotive, and it was then donated to the Neveda State Railroad Museum. Today, the locomotive is occasionally operates during selected steam-ups, which are during each year. It is one of only two locomotives that ran on the original, pre-preservation V&T still in operation, the other being #22 Inyo.
Ad blocker interference detected!
Wikia is a free-to-use site that makes money from advertising. We have a modified experience for viewers using ad blockers

Wikia is not accessible if you've made further modifications. Remove the custom ad blocker rule(s) and the page will load as expected.