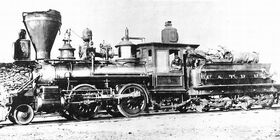 Virginia and Truckee No. 9 (I.E. James)
is a 2-4-0 steam locomotive. It was built in 1870 by the Baldwin Locomotive Works for the Virginia & Truckee railroad and named after Isaac E. James, Chief Engineer of the Virginia & Truckee.
The locomotive was used as a switch engine for the Virgina and Truckee railroad at Carson City.
In 1873, she started a fire at the Mexican Mill, destroying the wood yard then shortly she was fitted with a steam-powered water pump for fighting fires.
In 1900, she was rented to the Boca and Loyalton Railroad, and the engine was later retired in 1905.
In 1907, she was sold to contractors in Oakland and was converted to burn oil.
The locomotive was retired from service in 1941 and it was finally sold for scrap.
This engine was an example of a 2-4-0 that featured a headlight on the cab roof.
The locomotive used to worked with the sister locomotive No. 21.
On July 16, 1907 the engine was sold without the fire pump for $2,500 to Willett and Burr Contractors, Oakland.
I. E. James was one of the smaller locomotives at Virginia & Truckee.
Ad blocker interference detected!
Wikia is a free-to-use site that makes money from advertising. We have a modified experience for viewers using ad blockers

Wikia is not accessible if you've made further modifications. Remove the custom ad blocker rule(s) and the page will load as expected.