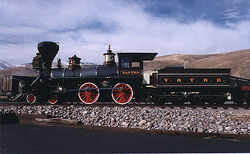 Virginia and Truckee No. 18 "Dayton"
is a 4-4-0 steam locomotive, built in 1873 by the Central Pacific Railroad's Sacramento Shops for the Virginia and Truckee Railroad and named Dayton. The locomotive was designed to haul passenger and freight trains.
In 1906, the locomotive had the honor of opening the branch line between Carson City, Nevada and Minden, Nevada, but after that it was used less frequently. It spent much of the early 20th century on snowplow duty, and although other details of its life were unknown, Dayton was retired in 1926.
In 1937, the locomotive, minus the plow, was sold for $1,000 together with No. 22 Inyo to Paramount Pictures who then had the locomotive overhauled at the Southern Pacific Railroad shops at Sparks, Nevada. Paramount had the locomotive repainted and renumbered for use in the filming of motion pictures.
In 1969, the locomotive participated in ceremonies for the centennial of the Golden Spike and it was modified to represent Union Pacific's No. 119. It remained at the Golden Spike National Historic Site throughout most of the 1970's, along with the V&T's Inyo, which was modified to represent the Central Pacific's Jupiter. In 1974, both locomotives were sold to the State of Nevada, but remained in Utah while brand-new replicas of the Golden Spike locomotives were under construction.
Dayton was donated to the Nevada Railroad Museum, and both it and Inyo finally arrived at the Nevada State Railroad Museum in Carson City in late 1978. Dayton made its debut at the museum on Memorial Day weekend, 1982. There, both engines were evaluated for possible restoration to working order. The boiler of No. 18 was found to be in poor condition and would require replacement. Since the Dayton's boiler was original, it was decided to instead give the engine a cosmetic restoration.
In 2005, the engine was moved to the Virginia City Comstock History Center, where it remains today as a static exhibit.
This locomotive was featured in many films such as Union Pacific (1939), Young Tom Edison (1940), The Lady from Cheyenne (1941), Nevada City (1941), Jackson Mail (1942), Frontier Bedmen (1943), Barbary Coast Gent (1944), Gentle Annie (1944), The Harvey Girls (1946), Duel in the Sun (1946), Whispering Smith (1949), as The William R. Smith in Disney's The Great Locomotive Chase (1956), Stagecoach West (1957),  as well as featuring in the Ridin the Rails (1974), and The American Spirit (1974).