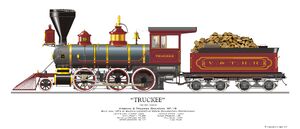 Virginia and Truckee No. 19 "Truckee" is a 2-6-0 "Mogul" Type steam locomotive built by the Baldwin Locomotive Works in 1875 for the Virginia and Truckee Railroad and named "Truckee".
No. 19 was used for freight service on the Virginia and Truckee Railroad.
Truckee ended service on the V&T just before the turn of the century in 1892 when it was retired from service and Placed in the Carson City engine house.
In 1901, the Verdi Lumber Company restored her and renamed #1 and renamed her as "Roberts".
She was sadly sold for scrapped in 1920.
'Truckee' was one of four nearly identical 2-6-0's built by Baldwin Locomotive Works from 1875 through 1876 for the Virginia & Truckee Railroad.
These moguls are of a similar, albiet hevier, construction than the preceding eight Baldin moguls.
Ad blocker interference detected!
Wikia is a free-to-use site that makes money from advertising. We have a modified experience for viewers using ad blockers

Wikia is not accessible if you've made further modifications. Remove the custom ad blocker rule(s) and the page will load as expected.