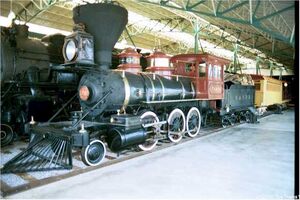 Virginia and Truckee No. 20 "Tahoe" is a 2-6-0 steam locomotive it was built in 1875 by the Baldwin Locomotive works for the Virginia and Truckee railroad and named Tahoe.
In 1942, "Tahoe" was sold for $2,000 to Clifford C. Bong Construction, and it helped build several railroad classification yards for the US Army Corps of Engineers. After the war, it was stored in Bong's Arcadia, CA, yard until bought by the museum in 1968.
"Tahoe" was one of two Moguls delivered to the V&T in 1875. The second, #19 "Truckee", has not survived. Ordered at the same time but delivered in 1876, two more Moguls, "Santiago" and "Merrimac" have also not survived. Still, nine of the locomotives the V&T rostered between 1869 and 1950 are still in existence - a quite remarkable rate that might owe something to the filmic qualities of the locomotives, which have appeared in numerous westerns over the years.
Today the locomotive is a static display at the Railroad Museum of Pennsylvania.
After over fifty years service hauling ore as well as passenger trains, it went into storage at Carson City, NV, in 1926.
The locomotive was nicknamed "The Mighty Mogul" because it was "better, stronger" than the lighter American-type 4-4-0 Dayton.
While the Tahoe was stopped there, the Dayton, pulling the local passenger train, came around the curve and ran head long into No. 20 causing severe damage.
Then, in 1911, it was converted to an oil burner.
It was shipped back to Strasburg on a flat car, where the Strasburg Railroad shops later restored it to roughly how it would have appeared when delivered in 1875.
The Tahoe is the only V&T locomotive on display east of the Mississippi.
Ad blocker interference detected!
Wikia is a free-to-use site that makes money from advertising. We have a modified experience for viewers using ad blockers

Wikia is not accessible if you've made further modifications. Remove the custom ad blocker rule(s) and the page will load as expected.