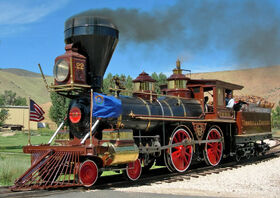 Virginia and Truckee No. 22 "Inyo" is a 4-4-0 steam locomotive it was built in 1875 by the Baldwin locomotive works for the Virginia and Truckee Railroad and named "Inyo".
This locomotive was use to pull both passenger and freight trains on the Virginia and Truckee Railroad.
The Inyo was retired from the Virginia and Truckee Railroad on September 9, 1926.
This locomotive was kept in generally working order, to provide a source of spare parts for another V&T locomotive, the "Reno".
The locomotive was sold to Paramount Pictures in March 1937 for $1,250. Though not rebuilt by the studio as was the "Dayton" (another V&T locomotive also purchased by the studio at the time), the engine was repainted and renumbered for use in motion pictures.
The locomotive is also affixed to a lengthy mountain range and a large county in eastern California.
It is now currently owned by the The Nevada State Railroad Museum in Carson City, Nevada.
In 1969 and 1974 the locomotive participated in ceremonies for the centennial of the Golden Spike were the Inyo was decorated to look like the Central Pacific's Jupiter.
From the 1890s, #22 hauled the V&T's crack Lightning Express between Virginia City and Reno, with onward service to San Francisco on the Central Pacific Railroad.
The locomotive is sometimes on static display but it's still operates but only special occasions. (Just like B&O No. 25 (William Mason)).
This locomotive appeared in many other movies, including The Texans (1938), Union Pacific (1939), Buckskin Frontier (1943), Duel In The Sun (1946), Harvey Girls (1946), The Virginian (1946), So Dear To My Heart (1948), Red River (1948), Rails into Laramie (1954), as the Western & Atlantic Railroad 'Texas' in Disney's The Great Locomotive Chase (1956) and Last Train from Gun Hill (1959), as well as featuring in the 1960s television show "Wild, Wild West", And Thunder on the Rails (2000).
The locomotive was actually chosen as the Grand Marshal of the Parade in Nevada in 2006.
In the summer of 1956 the Inyo was being saved from retirement for the role of the Texas in "The Great Locomotive Chase".
This locomotive was given a nickname "The Brass Betsy".
In 1986 The locomotive used to be a guest appearance at Expo 86.
Ad blocker interference detected!
Wikia is a free-to-use site that makes money from advertising. We have a modified experience for viewers using ad blockers

Wikia is not accessible if you've made further modifications. Remove the custom ad blocker rule(s) and the page will load as expected.