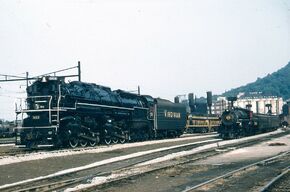 Virginian No. 903
is a 2-6-6-6 "Blue Ridge" type Steam Locomotive built in 1944 by the Lima Locomotive Works for the Virginian Railroad.
It was used on the Virginian Railroad and it was built to pull power coal trains from White Sulphur Springs, WV to Allegheny, VA.
The locomotive was retired in 1955 and sadly scrapped in 1960.
Ad blocker interference detected!
Wikia is a free-to-use site that makes money from advertising. We have a modified experience for viewers using ad blockers

Wikia is not accessible if you've made further modifications. Remove the custom ad blocker rule(s) and the page will load as expected.