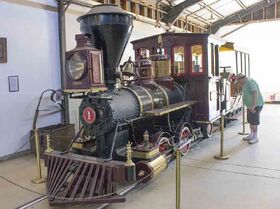 Waimanolo Sugar #2 (Pokaa) is an 0-4-2 steam locomotive it was built by the Baldwin locomotive works in 1883 for the Waimanolo Sugar Co., in Waimanolo, HI, as "Pokaa".
This locomotive once ran in Hawaii on the Waimanolo Sugar Co. to haul sugar canes.
In 1942 it was retired from service and it was donated to the Grizzly Flats Railroad in 1948.
In 1956, Ward Kimball (The Disney animator) began to run the newly restored "Chloe" and The neighbors were probably relieved, as the wood-burning "Chloe" produced cleaner smoke in smaller quantities than the larger coal-burning "Emma Nevada."
This special locomotive is now on static display at the Orange Empire Railway Museum.
This locomotive was featured in Chattanooga Choo Choo (1984).
This was the second locomotive bought for the "Grizzly Flats" in 1948.
When it operates at the Grizzly Flats Railroad No. 2 was renumbered No. 1 and named "Chloe" after the Kimballs' daughter.
No. 2 is the only remaining steam locomotive from the Waimanolo Sugar.
When Ward died in 2002, the family continued to operate the locomotive until 2006 when it was donated to the museum.
Ad blocker interference detected!
Wikia is a free-to-use site that makes money from advertising. We have a modified experience for viewers using ad blockers

Wikia is not accessible if you've made further modifications. Remove the custom ad blocker rule(s) and the page will load as expected.