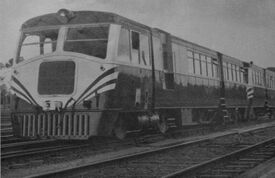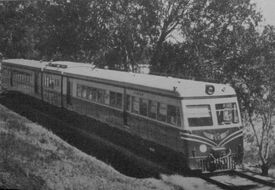 Walker Railmotors are diesel railcars, or train sets, that were designed to improve the passenger services on Victorian branchlines in Australia. They were practically a bus service on rails. (Which was their undoing.)
These motors entered service in 1948 with the 102 hp and the 154 hp units. The 102 hp units were built until 1955 and the 153 hp units stopped being built one year before. The 280 hp units were built from 1950-1951. The engine and drive systems were built by the Walker Railcar Company in Wigan, England, and the bodies were built by Martin & King in Melbourne, Victoria, Australia. The railcars were put together by Victorian Railways. The railcars were, in the end, gradually replaced by a diesel electric railcar from 1978 on. Amazingly these railcars survived to this time, even though they were in direct competition with the bus service. By 1980 no Walker Railmotor cars or trainsets were in service. Very few are preserved.
Specifications
Edit
Specifications for 153 hp unit:
Builder: Walker Railcar Co. (Power unit), Martin & King (Body)
Weight: 21 tons (21.3 tonnes)
Length: 56 ft 4 3/8in (17.8 metres)
Engine Configuration: 18 litre, inline 6 cylinder diesel engine
Power Output: 153 hp (114 kW)
Maximum Speed: 50 mph (80kph)
Passenger Capacity: 18 first class, 22 second class. Total: 40
Total Produced: 16 (15 operational, 1 spare)

The Walker Railmotor diesel rail car or trainset bears a close resemblance to early EMD (Winton Electric) diesel railcars.
Some parts are off Planes (don't ask Me on how I know that)
References
Edit
Book: Railways of the Yarra Valley written by Nick Anchen published by Sierra Publishing. ISBN: 978-0-9804686-7-0
Wikipedia.org