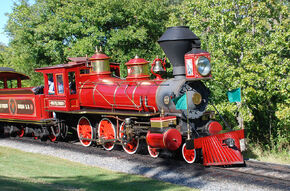 Walt Disney World Railroad No. 1 is a "Ten-Wheeler" type a 4-6-0 steam locomotive built by Baldwin Locomotive Works in May 1925 for the United Railways of Yucatan as No. 72 before being renumbered to No. 274 in the 1960s.
The locomotive was used for passenger and freight service on the United Railways of Yucatan.
The engine was later renumbered as No. 1.
The locomotive was retired from service in 1969 and it was donated to Walt Disney World where it was put in operation.
In August 2016, it went out-of-service and shipped off to the Strasburg Rail Road workshop for an extensive overhaul on Halloween that year. This locomotive was suspected to be returned to service sometime around 2019.
When the engine operates at Walt Disney World it was lettered as Walt Disney World Railroad and it was named after the company founder of The Walt Disney Company, Walt Disney himself.
The locomotive's whistle is a Buckeye 3" 3-chime.
Ad blocker interference detected!
Wikia is a free-to-use site that makes money from advertising. We have a modified experience for viewers using ad blockers

Wikia is not accessible if you've made further modifications. Remove the custom ad blocker rule(s) and the page will load as expected.