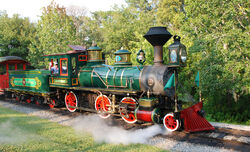 Walt Disney World Railroad No. 2
is a 2-6-0 "Mogul" type steam locomotive built by the Baldwin Locomotive Works in September 1928 for the United Railways of Yucatan as No. 260.
The locomotive used for freight and passenger service on the United Railways of Yucatan jungles of Mexico.
The locomotive was later renumbered 2.
In 1969, it was retired from service and it was donated to Walt Disney World.
Today, this Mogul is at Walt Disney World.
Since August 2010, the Lilly Belle was taken out-of-service for a new boiler and rebuild at the Strasburg Rail Road workshop, at Strasburg Pennsylvania. This is only the steam locomotive that hasn't been operating on the Walt Disney World Railroad for more than five years. On July 21, 2016, the Lilly Belle arrives back on property at Walt Disney World and returned to service on November 23 of that year.
When the engine operates at the Magic Kingdom it was lettered as Walt Disney World Railroad No. 2 Lilly Belle and it was named after Walt Disney's wife Lillian Disney.
In 2004, the Lilly Belle did not run in regular operating service due to pony truck and frame issues. Because of this, the locomotive was put on Welcome Show train service daily until its 2010 overhaul. Since its issues were fixed up, the locomotive returns to regular operating service.
The locomotive's whistle is a high-pitched Buckeye 3 inch 3-chime. Strangely in 1979, its usual whistle was clogged up, so the Walt Disney World Railroad No. 4's low-pitched Baldwin 4 inch 3-chime whistle was put on the No. 2 temporarily until 1980. Then again in late 1992 until early 1994 when No. 2's Buckeye whistle sounded normal again.