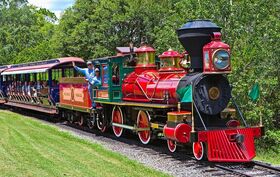 Walt Disney World Railroad No. 4
is a 4-4-0 "American" type steam locomotive built in February 1916 by the Baldwin Locomotive Works originally for the United Railways of Yucatan as No. 66, until it was renumbered to No. 251 in the 1960s.
This "American" type locomotive was used for passenger and freight service on the United Railways of Yucatan jungles of Mexico.
It was later renumbered as No. 4.
In 1969 it was retired from service and it was donated to Walt Disney World.
As of today, it's operational at Walt Disney World.
When this locomotive operates at Walt Disney World it was lettered Walt Disney World Railroad and it's named after Walt Disney's older brother and business partner, "Roy Oliver Disney".
This locomotive was originally built as a wood burner, until it was converted to burn No. 6 fuel oil in the 1950s. Today, it now runs on No. 2 distillate fuel oil.
This locomotive's entry into service on the WDWRR was delayed until December 1, 1971 after the park opened due to the need for repairs to a crack in its frame.
This was the only locomotive on the WDWRR to have a lonesome sounding Baldwin 4 inch 3-chime whistle.
In the 1980s, the locomotive was given a very similar whistle originally used on the Admiral Joe Fowler riverboat, which was completely destroyed beyond repair during a refurbishment in dry dock. Also, the locomotive's whistle was put on the Liberty Belle riverboat. Despite the Admiral Joe Fowler riverboat's whistle sounded similar to the WDWRR's No. 4 locomotive's, it unusually had a bassy and low-pitched tone due to one of its chambers clogged up with dirt and soot. In mid-2015, the whistle's chambers were unclogged, thus returning to its actual original sound.