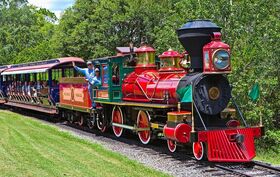 Walt Disney World Railroad No. 4 is a 4-4-0 "American" type steam locomotive built in 1916 by the Baldwin Locomotive Works originally for the United Railways of Yucatan as No. 251.
This "American" type locomotive was used for passenger and freight service on the United Railways of Yucatan jungles of Mexico.
It was later renumbered as No. 4.
In 1969 it was retired from service and it was donated to Walt Disney World.
As of today, it's operational at Walt Disney World.
When this locomotive operates at Walt Disney World it was lettered Walt Disney World Railroad and it's named after Walt Disney's older brother and business partner, "Roy Oliver Disney".
This locomotive's entry into service on the WDWRR was delayed until December 1, 1971 after the park opened due to the need for repairs to a crack in its frame.
The locomotive's whistle is a lonesome Hancock Short Bell 3 chime. But in the mid 1980s, it sounded so bassy and low-pitched due to one of its chambers getting clogged up. Sometime around summer 2015, the whistle's chambers were cleaned up and made it sounded prototypical again.
Ad blocker interference detected!
Wikia is a free-to-use site that makes money from advertising. We have a modified experience for viewers using ad blockers

Wikia is not accessible if you've made further modifications. Remove the custom ad blocker rule(s) and the page will load as expected.