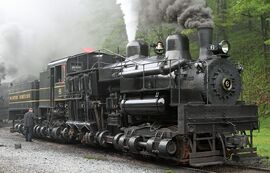 Western Maryland Railroad No. 6
is a Shay - 3 truck it was built by the Lima Locomotive Works in 1945 for the Western Maryland Railroad.
This locomotive was shipped to Elkins, WV, in May 1945 to work on the railroad's coal mining Chaffee Branch, with a maximum grade in places of 9%.
In 1953 the locomotive was retired and it was donated to the B&O Railroad Museum, and ran under steam to Baltimore, MD, in August that year then it remained on static display in the B&O Museum roundhouse for the next 26 years.
It entered excursion service on 17th May 1981 on the former C&O Greenbrier Division to Durbin, but clearance restrictions and its 324,000 lb. weight meant the locomotive was rarely used on the CSRR.
Today the locomotive is operational at the Cass Scenic Railroad in Pocahontas County, WV.
This was the last Shay that operates by the Western Maryland Railroad.
The locomotive had a service life of only four years and was then stored at Vindex, Maryland Junction and then Hagerstown, MD.
At the B&O railroad museum No. 6 was traded for Greenbriar Cheat & Elk No. 1.