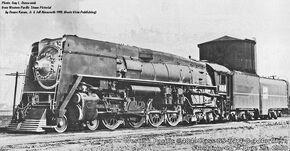 Western Pacific No. 484 is a Class GS-6 a semi-streamlined 4-8-4 "Northern" type steam locomotive built by the Lima Locomotive Works in 1943 for the Western Pacific Railroad.
The locomotive spent years working on the Western Pacific Railroad hauling passenger trains and in freight service as well.
When it was Retired in 1953 the Western Pacific dieselized and they sold her to the Southern Pacific railroad for spare parts, but kept the tenders and converted them to steam generators for rotary snowplows.
Today the Tender is stored at the Western Pacific Railroad Museum in Portola, California but the engine was Scrapped.
The locomotive is an Example of a GS-6 with the "elephant ear" style smoke deflectors.
The Reason that the Tender Remains from Scrapped it's because they want to converted it to a steam generator for a rotary snowplow and it's the remaining tender for the Western Pacific's GS-6 series.
Ad blocker interference detected!
Wikia is a free-to-use site that makes money from advertising. We have a modified experience for viewers using ad blockers

Wikia is not accessible if you've made further modifications. Remove the custom ad blocker rule(s) and the page will load as expected.