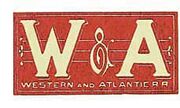 The
Western and Atlantic Railroad
is a historic, government-owned railroad which operates in the southeastern United States from Atlanta, Georgia to Chattanooga, Tennessee it was founded on December 21, 1836.
Through 1870, it was called the State Road, and was operated directly by the state under a superintendent appointed by and reporting to the governor of Georgia.
The area developed into a settlement, known as "Terminus", literally meaning "end of the line". In 1843, the small settlement of Terminus was incorporated as the city of Marthasville. Two years later, by Act of the Georgia General Assembly the city was renamed "Atlanta".
In 1836, the Georgia General Assembly voted to build the Western & Atlantic Railroad of the State of Georgia to provide a link between the port of Savannah and the Midwest.
The locomotives that were transferred consisted only of those listed on the 1870 lease as property of the State, with all of the more modern engines purchased under Gov. Brown's Western & Atlantic Railroad Company having been sold to other railroads. While most of the passenger equipment was usable, almost all of the locomotives were condemnable and all of the freight cars were scrapped. The value of the locomotives was disputed for some twenty years. A major change in the new lease in 1890 stipulated that all improvements made to the road by the lessee would become property of the state at the termination of the lease.
The city of Atlanta was founded as the terminus of the W&A. The line is still owned by the State of Georgia from Atlanta to CT Tower in Chattanooga; it is leased by CSX Transportation.
Locomotives
Edit
Western & Atlantic Railroad 'Catoosa'
Western & Atlantic Railroad 'Etowah'
Western & Atlantic Railroad 'Governor'
Western & Atlantic Railroad 'Senator'
Western & Atlantic Railroad 'Chieftain'
Western & Atlantic Railroad 'President'