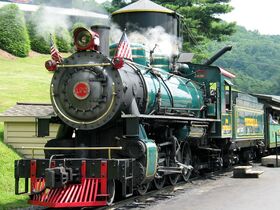 White Pass & Yukon Railway No. 190 is an S118 class 2-8-2 Mikado type steam locomotive built in 1943 by the Baldwin locomotive works for the United States Army Transportation Corps. The locomotive was designed to haul passenger and freight trains on the US Army Transportation Corps' White Pass & Yukon Route Railroad, as well as helping to build the Alaskan (ALCAN) Highway. After the war, the locomotive and a few other engines of its class were sold to the WP&YR.
In 1960 it was retired from 17 years of revenue service. It was then donated and restored to operating condition by Tweetsie Railroad and it was named "Yukon Queen".
As of today it is still running on the Tweetsie Railroad.
Every year in October, No. 190 dresses as the "Ghost Train".
During World War II, the locomotives were sent to Alaska for use on the White Pass and Yukon.
The engine was part of an 11-locomotive fleet of "MacArthur" 2-8-2s originally purchased for use overseas.
Both No. 12 and No. 190 are Tweetsie Railroad's favorite steam locomotives.
When the locomotive was restored by the Tweetsie Railroad, it used to be painted black and now it is painted green.
The engine used to have a wood-burning smokestack.
At Tweetsie Railroad No. 190 has been operating for the "Ghost Train" event since October 1, 1990.
Ad blocker interference detected!
Wikia is a free-to-use site that makes money from advertising. We have a modified experience for viewers using ad blockers

Wikia is not accessible if you've made further modifications. Remove the custom ad blocker rule(s) and the page will load as expected.