White Pass and Yukon Railroad #192 is the one of 2 190 Class 2-8-2 Mikado's built for the White Pass and Yukon Railroad. she currently works at Dollywood in Pigeon Forge, Tennessee. it's the exact same design as her sister #190 at Tweetsie Railroad.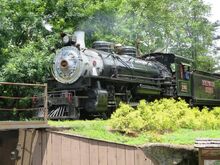 White Pass & Yukon No. 192
Details

Built

02/1943

Class

USATC S118 class 2-8-2

builder's number

69827

builder

Baldwin Locomotive Works

Wheel Arrangement

2-8-2 Mikado

tractive effort

20,100 lbs.

Boiler Pressure

185 lbs.

clyinders

16x24

Gauge

3 foot narrow gauge

driver diamater

48"

Locomotive Weight

59 tons

Retired

1958
V - E - T - D
192 was built in April of 1943 by the Baldwin Locomotive Works in Philadelphia, PA, and worked on the White Pass as a primarily a passenger engine. she retired in 1960. In 1961, The founder of Tweetsie Railroad, Grover Robbins Jr., purchased #192 and sent her to work at his 2nd Theme park, called Rebel Railroad, a Civil War themed park, which opened in 1961. it was here that 192 was given the Nickname, Klondike Katie. in 1966, Robbins Changed the name of the Park to Goldrush Junction, and changed the theme of the park to a Wild West theme, similar to Tweetsie. A Wild West Shootout show was also added to the ride. in 1970, NFL football team, The Cleveland Browns bought the park, but retained the Goldrush Junction name. in 1976, Jack and Peter Hershend bought the Park, and became Silver Dollar City Tennessee. and making it the Sister Location to Silver Dollar City in Branson, Missouri. The park finally got into the hands of Dolly Parton, who changed the name to Dollywood. #192 still operates there to this day.
#192 is of the exact same design as #190 at Tweetsie Railroad
#192 works alongside #70, another White Pass and Yukon Mikado, which had been built for freight trains.