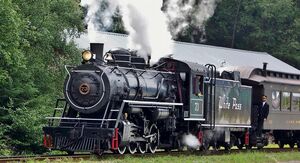 White Pass & Yukon No. 73 is a 2-8-2 'Mikado', steam locomotive built by the Baldwin locomotive works in 1947 for the White Pass & Yukon Route railway.
The engine was design to work for the White Pass & Yukon Route railway.
The locomotive was retired from service in 1964.
In 1979 the locomotive was moved again to Whitehorse, Yukon, this time to be restored.
Today the locomotive is Operational back at the White Pass & Yukon Route railway but this time as a Tourist Train.
After retirement in 1964, the locomotive was moved to Bennett, British Columbia, in 1968 for display.
The Restoration was completed in 1982, and the locomotive has been back in service since then.
No. 73 is currently the larger of two operating steam locomotives on the line.
The WP&YR proudly announces the return to full service of White Pass Steam Engine #73.
After two years of restoration, the pride of the rail fleet is once again in service for charters and the Lake Bennett Steam Adventure.
The locomotive was one of four 70 class steam engine that became White Pass favorites.
Ad blocker interference detected!
Wikia is a free-to-use site that makes money from advertising. We have a modified experience for viewers using ad blockers

Wikia is not accessible if you've made further modifications. Remove the custom ad blocker rule(s) and the page will load as expected.