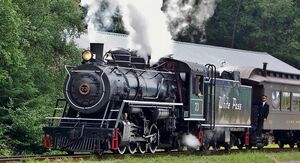 White Pass & Yukon No. 73
is a 2-8-2 'Mikado', steam locomotive built by the Baldwin locomotive works in May 1947 (serial number 73352) for the White Pass & Yukon Route railway.
The engine was design to work for the White Pass & Yukon Route railway.
The locomotive was retired from service on June 30th, 1964.
In 1979 the locomotive was moved again to Whitehorse, Yukon, this time to be restored.
Today the locomotive is Operational back at the White Pass & Yukon Route railway but this time as a Tourist Train.
Specifications
Edit
Wheel Arrangement: 2-8-2 Mikado
Builder: Baldwin Locomotive Works, Philadelphia, Pennsylvania USA
Date Built: May 1947
Model: 12- 28 1/4 E
Serial Number: 73352
Track Gauge: 3 foot narrow gauge
Driver Diameter: 44"
Height: 12" 7'
Locomotive Weight: 145,000 lbs. (248,400 lbs with tender)
Fuel Type: Oil
Fuel Capacity: 2,500 gallons
Water Capacity: 5,000 gallons
Boiler Pressure: 205 psi
Cylinder Size: 17" x 22"
Tractive Effort: 25,200 lbs.
Retired from Revenue Service: June 30th, 1964
Restored: 1982
After retirement in 1964, the locomotive was moved to Bennett, British Columbia, in 1968 for display.
The Restoration was completed in 1982, and the locomotive has been back in service since then.
No. 73 is currently the larger of two operating steam locomotives on the line.
The WP&YR proudly announces the return to full service of White Pass Steam Engine #73.
After two years of restoration, the pride of the rail fleet is once again in service for charters and the Lake Bennett Steam Adventure.
The locomotive was one of four 70 class steam engine that became White Pass favorites.