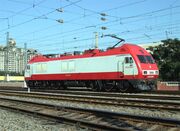 The Zhuzhou Electric Locomotive Works SS9 (ShaoShan 9) is a six axle (Co-Co) electric locomotive built for high speed passenger services in China. Unlike most modern electric locomotives, these are DC-powered machines instead of AC powered units. The SS9 runs off a 25kV Catenary system. Their top speed is 109mph.
214 SS9s have been built. 
This locomotive is equipped with Head-end Power (HEP) capabilities. However due to the length of most Chinese passenger trains (up to 30 cars long in some cases) some SS9 passenger trains run with HEP cars (KongTiaoFaDianChe) equipped with twin V12 GE diesel engines, which deliver power to passenger cars.
Ad blocker interference detected!
Wikia is a free-to-use site that makes money from advertising. We have a modified experience for viewers using ad blockers

Wikia is not accessible if you've made further modifications. Remove the custom ad blocker rule(s) and the page will load as expected.